Minnesotas Hidden Gem
May 11, 2022
At first glance snowboarding in Minnesota does not seem ideal. With very low elevations there's not much for local ski hills to advertise. So why is it such a common destination for professional snowboarders? The answer is rope tows. These ropes let you get substantially more laps than you could get in one day on a chairlift. No need to unstrap and wait in a lift line. You just have to grab on at the bottom and hold on until the top. Paired with Minnesota's extremely short hills, the rope tow can get you back to the top of the hill in just under a minute. Due to limited space, park crews are forced to get creative with the park set ups. Rails are packed close together, and they create many unconventional features. This is yet another reason Minnesota is so popular. All of these characteristics combined makes for an unusual yet fun riding experience.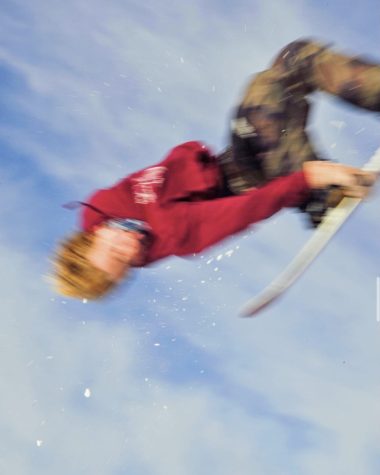 Another reason Minnesota is a destination for professionals is street snowboarding. Minneapolis and surrounding areas are littered with large hand rails. Snowboard brands send their riders to Minnesota to get clips on these rails for promos. 
Minnesota is a great place for snowboarding in the park, down normal runs, and around the city. With a thriving scene, you may even see your favorite pro snowboarder at the hill.
The Road to the Olympics
    Do you ever see Olympic snowboarding on TV, and wonder how the athletes get there? Every year hundreds of snowboarders compete in world wide events in an attempt to qualify for the Olympics. However you cannot simply sign up for an Olympic qualifying competition. There is a long and grueling process of smaller competitions that you must work through to reach higher competitions.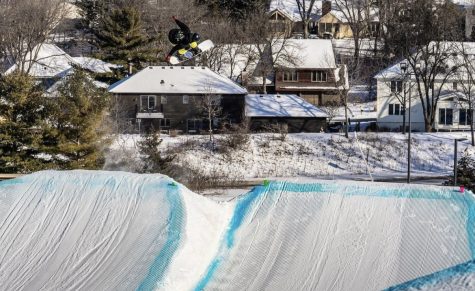 Any snowboarder that wants to compete starts with regional events. These usually will take place at a smaller local ski resort. Local competitions are a great start to competing, and the first step in qualifying for the national circuit. If you do well in a couple regional competitions, you can then qualify for nationals. Around April, riders from all around America travel to Copper Mountain. The level of riding takes a huge step up, and competition becomes fierce. This is because a podium spot at nationals will qualify you for the Revolution tour. Riders at nationals are ready to do whatever it takes to reach the next level. The extremely talented few that qualify for the Revolution tour have to prepare for an extreme change in how the competition is run. Revolution tour is the first world circuit competition that you can do. This is usually riders' first time competing against a whole new field of competition. Snowboarders from all over the world including Japan, South Korea, and all across Europe. Not only is the field far greater than it was before, but the age range is also much larger. The Revolution tour is the first circuit competition that is strictly open class. This can be hard to adapt to as riders are used to competing with other snowboarders their age. From this point forward, riders must do as many Rev Tour competitions as possible. This is to get as many points as possible. If a rider gets enough points they may qualify for world competitions, such as junior worlds, junior Olympics, and world rookie tour. These are the final steps before Olympic qualifying contests. A good performance in these world competitions may catch the attention of the U.S. Team coaches, and you could be invited to Olympic qualifiers with the U.S. Team. 
         Riders trying to go down this path must remember how grueling, and challenging it is. The most skilled athletes from all around the world are competing with you for World Cup spots. Riders must be fully committed to trying their hardest, and not to get discouraged if there's more challenges along the way.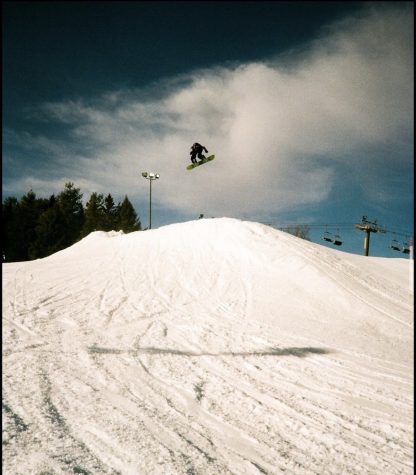 What Snowboard is Right for Me
Choosing a snowboard can be a confusing and intimidating process for a new snowboarder. However it doesn't have to be that way, a few pieces of advice can make choosing the right board for you a breeze. The most important factor is the size of your snowboard. Your board should be somewhere between your chin and your nose when standing up next to it. If the board is too large it will be very hard to turn, while if the board is too short it will feel unsteady or loose. Another important factor is rigidity. Most beginner snowboarders should look for a softer snowboard. This makes the board more comfortable, and forgiving. A stiffer board is not ideal for new snowboarders. Though more capable, stiffer boards may be too aggressive. Finally, the shape is also very important. Most beginners should buy a twin tip snowboard, this shape is capable of handling all terrain and won't hold you back anywhere on the mountain. If you keep all of these things in mind while shopping for a board, you should be able to find one perfect for you. It can also help to shop locally at a board shop. The people there can help you find exactly what you are looking for.

infographic