Support and Prosper
Hi, welcome to Support and Prosper! Our names are Leah and Natalie and we are excited to help local businesses', but especially local plant nurseries around us. We wanted to start this blog to help local plant nurseries around us. Our plans for this blog are to compare local plant nurseries and large chains through videos, pictures, and articles of impacts of buying from a local business. We hope that you find value and interest in our blog!
May 18, 2021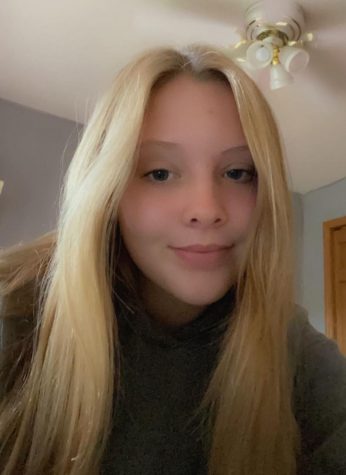 Hi, my name is Natalie Milacnik and I'm a part of the Minnetonka Vantage Digital Journalism
program. I love to be outside and explore new things. During my free time I spend time with my
friends and family while trying to be outside as much as possible. I'm so excited to start this blog
and help local plant nurseries!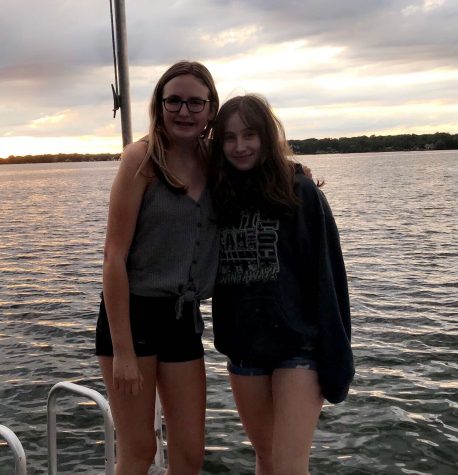 Hi I'm Leah Guralnik (the one on the right). I'm interested in trying new things and I have a
special love for plants. Succulents and aloe plants are my favorite! During my spare time, I like
to visit family and friends, and walk around downtown excelsior. I can't wait to explore more
about plants and local businesses.
May 14, 2021 – Natalie Milacnik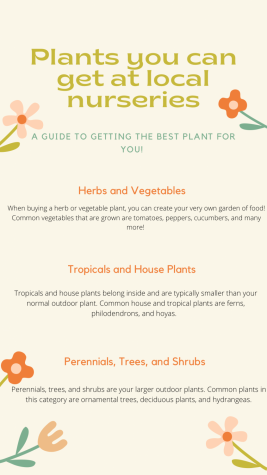 May 14, 2021 – Leah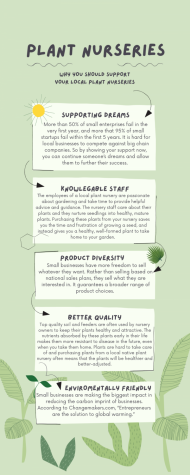 May 18, 2021 – Natalie
Local Plant Nurseries Located in Chanhassen and Minnetonka, MN
The Garden by the Woods is located in Chanhassen, Minnesota and has been around for 15 years to try and educate, improve, and enrich their customers' gardens. Their main goal is to create an environment where customers enjoy doing business and can find plants that best fit their home. Something unique about their website is their Master How-To page which is filled with helpful podcasts on how to make your backyard garden feel like home. Along with this, they host classes on preserving, grilling, drying, dying, and paper making with natural materials. With these helpful pieces of information, they hope to spread knowledge about what you can do to help save the environment. 
The Plant Place Garden Center is also located in Chanhassen, Minnesota and is a family owned business whose goal is to serve their customers with integrity while also serving quality products. They were created in 1983 and have many store locations around Minnesota. One of the unique parts about the Plant Place Garden Center website is that they have a small blog about spring cleanup and the winter time. This blog was created to help spread awareness about how you can protect your garden in the cold and how to clean it up in the spring. They have a large array of different products which include annuals, perennials, vegetable plants, tropical plants, mulch, soil, and lots of others. They take pride in having lots of natural products along with helping others create a beautiful garden that is good for the earth! 
Tonkadale is located in Minnetonka, Minnesota and has been around since 1947. Robert Anderson is the original business owner who started it as a breeder of specialty African violets. After he expanded his business, it was sold to Bill and Shirley Markuska in 1978. Today, it is owned by their granddaughter Jessie Jacobson. They take pride in creating custom designs for customers that fit their home. On their website, they have a learn page to help spread knowledge about outdoor and indoor plants along with the water, light, and temperature needed for each. Overall, their main goal is to help people find the perfect plant for their environment and home. 
Untiedt's is also located in Minnetonka, Minnesota. They strive to educate people while also giving back to the community. For over ten years they have worked to deliver healthy produce to families around Minnesota. So far they have donated 150,000 pounds to local food shelves, and have delivered healthy produce to about 2,000 families. On their website, they also have a section where you can learn about the agriculture industry along with all the various types of crops, how to cook fresh recipes, how they take care of their produce, and all of their research on sustainable farming. Overall, their goal is to spread knowledge about sustainable agriculture to help as many people as they can! 
If you would like to learn more about the different plant nurseries near you and what they are doing to help the earth along with your personal garden, go to: 
https://www.nurserytrees.com/States/state%20Minnesota.htm
May 18, 2021 – Leah
All you need to know about fertilizer!
You might be thinking, how could fertilizer affect my plant? Well may I just tell you, it makes a big difference. From seedling to a full-grown plant, the fertilizer you choose and what you do with it can greatly affect it.
First, we should talk about what fertilizer is, and why it is so important. Fertilizer is a natural or artificial substance containing chemical elements that improve the growth and productiveness of plants. Fertilizers provide essential nutrients to plants in the form of soluble salt compounds, and directly affect plant growth. Getting a good fertilizer is important to keeping your plants healthy. 
Before you reach straight for that fertilizer, test your soil and see if it is lacking in nutrients. It's best to not use fertilizer, rather than unnecessarily using it and damaging your plants. 
Picking the right fertilizer can be stressful, but hopefully, your local plant nursery staff and this blog post can ease your mind. There are multiple types of fertilizer. The main ones are liquid fertilizer, slow-release fertilizer, and granular fertilizer. Every plant has its set requirements and needs. So do some research before picking a random fertilizer.
Liquid fertilizers are diluted into water and applied with a watering can. The type of plant you choose to use this fertilizer on, impacts how often you need to use it. This is especially prevalent in large blooms because they may require feeding more often. Liquid fertilizer is beneficial because it is a steady supply of nutrients and you can control how much you want to give to your plants. A perfect example of this is when your plant goes dormant during the winter months, you can suspend its feeding. You can do the opposite when you want to increase feeding when your plant is ready to grow. The main downside is that you have to remember to do it every time. So if you're forgetful like me, and your plant doesn't need liquid fertilizer, I recommend a different option.
Slow-release fertilizers have quickly become one of the top favorite methods for gardeners. They are coated in time-release shells that slowly release nutrients into the soil. Each pellet has a different thickness that dissolves at different rates. This causes the actual release to stagger over time. A single-use can last between four and nine months. The main disadvantage is the high price of slow-release fertilizer, but because it lasts so long, the cost balances out. And hey, sometimes you gotta put in the extra money!
Dry pellets of pure fertilizer can be mixed into the potting soil by hand. Although they are more commonly used in outdoor gardens, they can also be used for indoor containers. Granular fertilizer dumps all of its nutrients in when the pot is watered. This makes it hard to control how much the plant is receiving at once. Granular fertilizer is quite inexpensive, and not a good choice if you have feeding houseplants.
As well as buying the right fertilizer, it matters how much you give to your plant. Excess fertilizer in your soil creates too high of salt concentration and can hurt beneficial soil microorganisms. It can also cause your plants to grow too quickly. This fast growth does not allow for your plant to create proper root systems. Without proper root systems, it can result in plant growth spurts that can't be supported. Excess amounts of fertilizer can not be dissolved by watering your plants. This causes fertilizer to be leftover and the soil to be altered.
I hope this information helps you with your fertilizer journey. Get planting!
May 21, 2021 – Natalie
Plant of the Month 
On this blog, we will have one post each month about a special plant. We will describe what it looks like, when it is most effective to plant, where you can find it, and more. Since we are in the middle of spring, we have picked a plant that blooms soon and is a perfect plant to put in your garden. The plant of the month is the creeping phlox! 
The creeping phlox is a perennial plant and a semi-evergreen habit. They have small petals formed in a five star formation, and they come in lavender, pink, red, white, and a light blue. The creeping phlox is the perfect way to bring a pop of color into your garden! These plants start to grow a few weeks into the spring and all through the summer. Most of them can survive during the harsh winters but they become a woody plant as time goes on. Majority of the plants reach to about four to six inches high with about a two foot width. You can find these at any of your local plant nurseries. Since we have just reached spring you will start to see the woody form of the plant bloom into these flowers.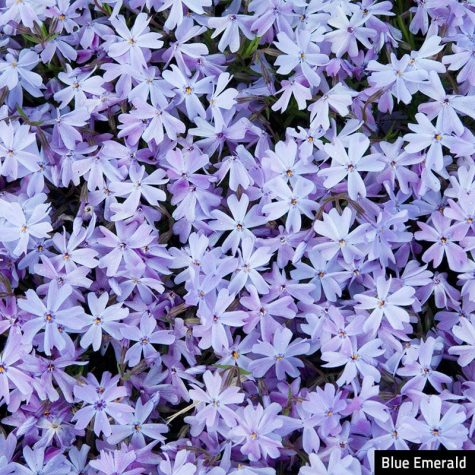 May 21, 2021 – Leah
How to choose a healthy plant!
So you know what type of plant will work in your space, but now you're thinking "how do I select the right one to bring home?"
A lot of people will see a plant they like, take it home, and ask, "why is my plant dying?" The best way to have a healthy plant is by starting with a good, healthy, vibrant plant. It takes a trained eye to know if the plant you want to buy is healthy. But, focusing on two main things, can develop your eye. These are: assessing any damage and looking for new growth. 
When you're buying a plant, you want to understand the difference between mechanical damage, like humidity or a leaf that was bent and ripped, and fungus that can spread. The way you can tell the difference between whether it is a fungus or humidity damage is that a fungus is usually asymmetrical and will attack one part of the leaf unevenly, whereas humidity damage will attack the leaf evenly all the way around. With plants that are like begonias, you are better off removing the damaged leaf in store. But no need to fret, it'll have new leaves in 3-4 weeks. Then, look for new growth, healthy leaves and new buds or stems are a good sign that the plant is healthy and will continue to grow when you bring it home.
Now that you know how to choose a healthy plant, get buying!
May 25, 2021 – Natalie
A tour of The Garden by the Woods
May 25, 2021- Leah