A Sense of Community
May 18, 2021
How a Minnetonka community is using their love for the ice as a way to bring people together
The Beginning of the End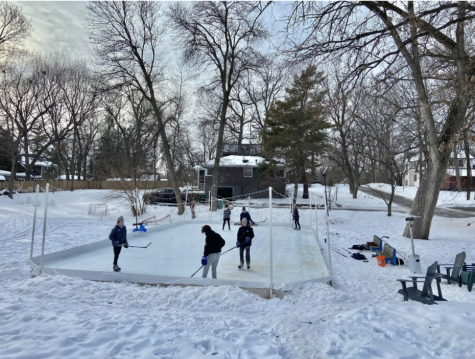 "Ten long years," says Robby House, freshman at Minnetonka High School and defenseman on the Minnetonka Bantam AA team. This long-awaited time is the "senior year" of youth hockey, the season of a second-year Bantam.
Boys in the Minnetonka Youth Hockey Association(MYHA) program spend 4 years in "Mites" and 2 in "Squirts," "Peewees," and "Bantams", before venturing off into high school hockey. When the math is done that means that they started in the program at just 5 years old, now being 15. House explains, "Its been the best experience of my life, being with the boys for so long, we were all really hyped for one last season together."
The boys had to go through one last week of youth tryouts and then teams would be announced. Evaluators had the crucial job of dividing the 8th graders and Freshman into 8 teams, at the top being Bantam AA.
"After the teams were announced we immediately made the team goal of winning state. We were ready to get to work" says John Stout, defenseman on the team. Yet approaching in the distance was a dark cloud that tested how much they really wanted their last shot at state.
The team went on to achieve an impressive record of 14-1-1, winning 14 games out of the 16 played in just a month and a half. Their success was put on hold as Governor Walz announced that on November 21st, all youth sports would be halted until further notice.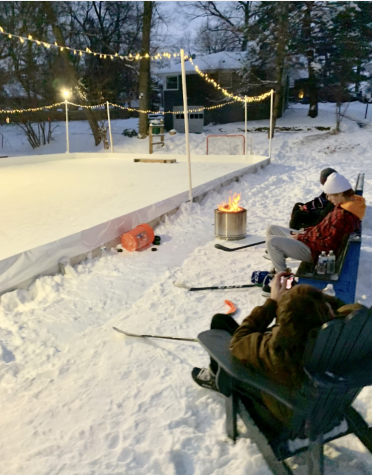 Despite initial disappointment with the news, the boys got creative in order to finish what they started, now in a safe manner.
"The best part is being with the guys who we have been best friends with for as long as we can remember, we weren't gonna let that come to an end" says Stout.
For years, the group had gathered on Lake Minnetonka and at backyard rinks to skate on the weekends, when spare time arose. However now more than ever, all they had was time. The makeshift rinks became an essential as they were the new hotspots for kids of all ages that seeked a place to keep doing what they loved.
The Bantam AA team, unable to let go of their original goal of winning state, was fortunate enough to have multiple boys on the team with rinks of their own, conveniently located just outside their front doors.
Jack McNeill, a forward on the team explained, "We skated almost every day together. It was an easy way to be safe and outside."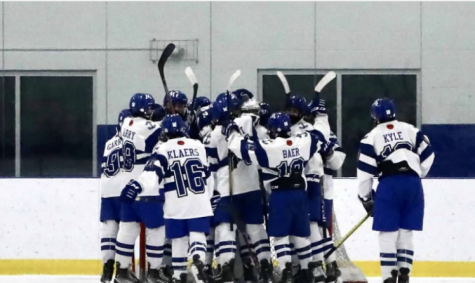 House agreed, stating, "Being able to keep working and having fun with my friends was so awesome. The rinks were everything."
House, McNeill, and Stout, all being second-years on the team, explained how there was a lot of lead-up to the season, since it would be their last. And although they were saddened at the break, the boys were grateful there was still a place they could go to do what was enjoyed most, playing hockey together.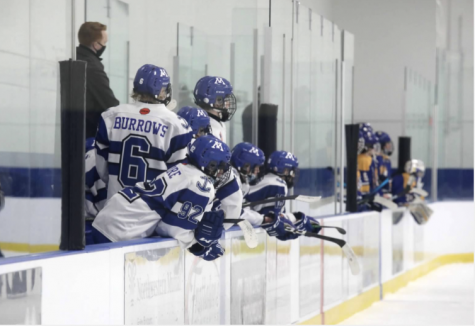 The dark cloud soon passed and on January 4th the team was able to get back into the Pagel Activity Center and resume their regularly scheduled practices. With the return came a "new normal" as it was announced that all players were required to wear masks for the duration of the season. The team saw it more as an adjustment rather than an obstacle and it became clear that their play was not affected.
January 16th marked their first game back, then winning 3 consecutive regular season games against Stillwater, Wayzata, and Osseo-Maple Grove.
"I am happy to be back with my friends at the rink and I think we are all ready to finish what we started" says Stout when asked about his feelings regarding the return to the season.
The highly anticipated final season for the second years will definitely be one for the books. Shutting down posed as a major setback for the group and was thought of as the end. Yet the team as a whole instead used this as an opportunity to grow. In searching for a way to adapt to the situation, they discovered the solution was sitting just outside their front doors. It has become clear that the long-awaited success story that seemed to come to an end, has really just begun.