Technology Within Sail Grand Prix
April 14, 2023
Technology Powered by Nature
"The world's most sustainable and purpose driven sport." This is the goal of SailGP. They are working to conserve energy and protect the environment around the race course, doing things differently and inspiring change beyond sailing. Focusing on improving the future of sailing and protecting the environment around sailing is so crucial. Sustainable and nature driven technology is how we strive for a new and green future. 
Technology and tools have always been accessible to assist for a better understanding of sailing, but as the sport develops and there are more and more boats and components available, the tools and instruments become better and more intelligent every day. Sales Director at Vakaros (Sailing Instruments of the Future) – Will Huerth says "Technology is helping sailors around the world sail faster, point higher, and gain more insights to help measure success." The most popular sailing instrument at Vakaros is the Atlas 2. The Atlas 2 is the ultimate sailing instrument that allows its user to understand how well their boat is going through the water in and around the race course. "From amateurs to professionals, all skill levels are becoming more keen on understanding data and technology to perform better. Sailing has always had technology at the highest levels but not at the mid market and youth level. We are looking to change that."
Technology has tremendous effects on sailing. I asked Hans Henken, Team USA SailGPs Flight Controller, why he thinks technology plays such an important role in racing in SailGP and the advancements of sailing. He says "I believe technology is one of the fundamental building blocks to progress, innovation and creativity and it's especially true in sailing. Technology has allowed for sailing to progress in many different areas that not only include performance but also when it comes to safety, reliability and access to others, such as people with disabilities, which is important in many aspects of our sport if it be SailGP, the America's Cup, Olympics, Paralympics, Around the World Racing or just open ocean or bay cruising."
The advancements of technology within SailGP even since 2018 have changed tremendously, sailors have unlimited power forcing the boats to be pushed harder and to be sailed more accurately. There is a massive amount of data that comes off the F50, all that data is processed to figure out what went wrong and how to fix it. As well as the advantages of being able to know exactly why something went well and implementing that throughout the regatta is key to the success of racing. 
Erika Reineke Strategist on USA's SailGP team says "Having data readily accessible to us saves time on the water, and practicing especially in these really expensive boats helps lay out a course better for you. You're getting more information being able to maximize different strategies through data, as well as being able to access other teams data to compare progress sailing way more than we ever have." Technology creates better closer racing, "using designed tools, techniques and methods to revolutionize the race at sea."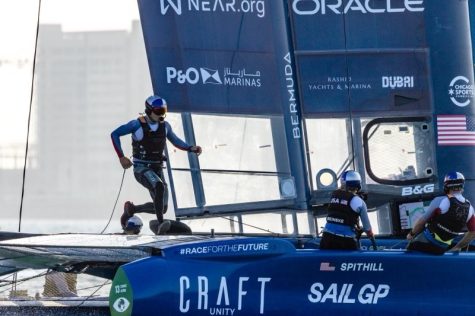 Erika Reineke- Strategist on SailGP Team USA
The Power of the F50      
This one-design foiling 50 foot sailboat is the shape of SailGP. Every one of the boats are identical leaving it up to the sailors skills and performance to determine the best in class. The F50's are constructed with Hydro Foils which provide a lift off the water reducing drag to increase speed. That's why the F50 is one of the fastest sailboats at a top speed of 62mph/54knots.  
The F50 is powered by WingSails which provide a lift to the boat leading to a hydrofoil. Everything else is push button control. "Imagine sailing a J70 or 420 only using an xbox controller, or a tv remote, that's how different the F50 is from normal boats. Pretty Wild!"
I asked Hans Henken, Flight Controller on USA's SailGP team about the F50, He said "The F50 is one of the most technologically advanced boats in the world right now. It is entirely made out of custom molded carbon fiber, with three different sized hard "wing" sails, modeled after airplane wings that replace a generic soft mainsail design, which makes the boat significantly more efficient. There are over 1,000 different sensors and controls all linked to a computer that produces 30,000 data points broadcasted live to technicians who monitor the boats performance in real time." The growth of technology is creating historical and significant advancements not only in the F50 of SailGP, but throughout the sailing world.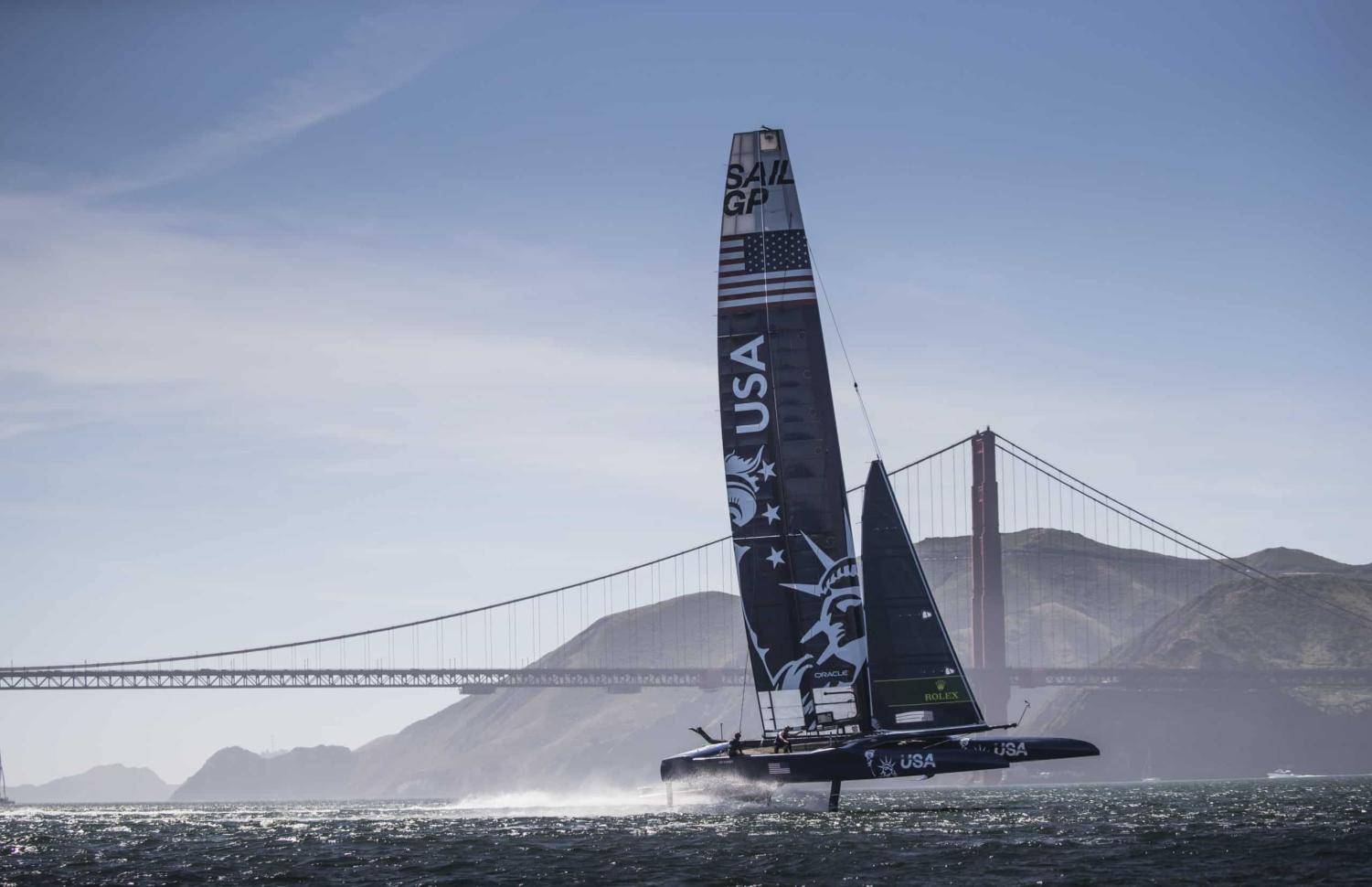 SailGP- Practice Race San Francisco 2022
Now is the time to launch Sail GPs Technologies.

Sea to Space
We aspire to find new ways to create high-performance innovations from sustainable means and processes. To go beyond sailboats to solve problems to deliver innovative design solutions around the world into space.
Technology and Innovations
Collecting data at an average batch size is

15,000

to

20,000 messages

, every

500 milliseconds.

(To be analyzed and corrected by technicians)

Correcting personal safety

Improving product presentation

SailGP makes over

13,000 API

calls to OCI Anomaly Detection service
Design Offerings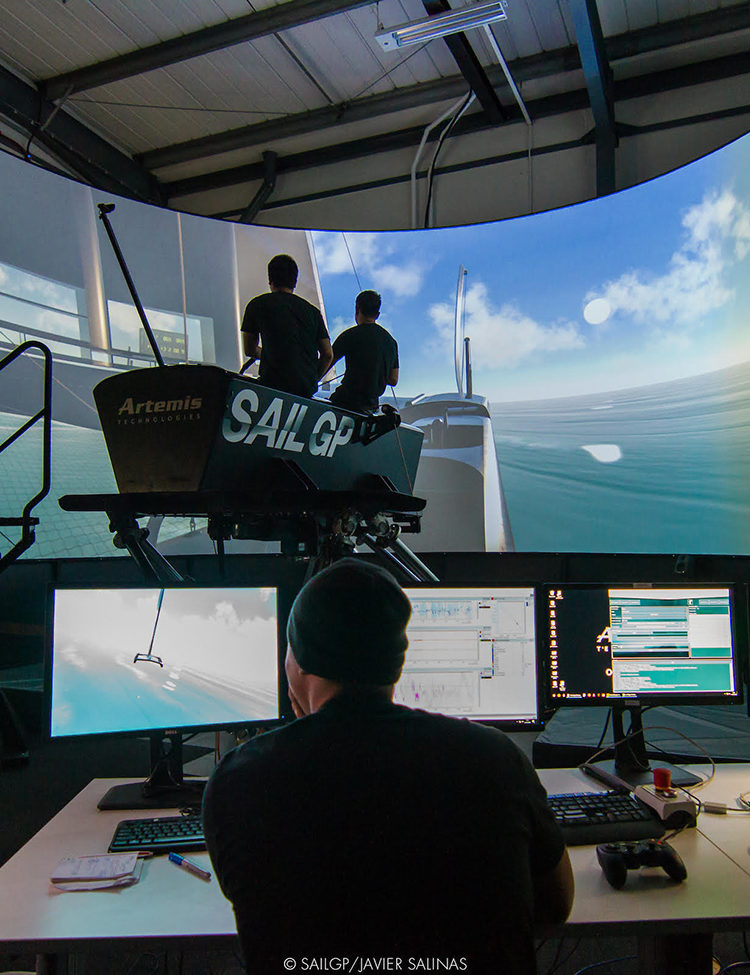 Aero + Hydrodynamics

Mechanical + Structural Engineering

Modeling + Simulation

Testing
Tech Offerings 
Project Scoping and Feasibility Studies

Consulting Services in New Projects

Project Management

Safety, Risk Protocol, Profiling

Global Complex Logistical Solutions

Event Management + Strategic Planning 

Corporate Hospitality 
Control Offerings 
Ultra-Lightweight Bespoke Hydraulic Valve Blocks

Hydraulic Systems + Components

Electronic Control + Operating Systems

Design, Consultation + Manufacturing
Aim and Meaning
Enhance Other Products Performance 

Maximize Performance

Avoid Breakdown
Manufacturing Offerings
Aerospace Components, Metal + Composites

Composite Machining

Metal Machining

Composite Production

Tooling Manufacturing

Testing, Sonic, Ultrasound, Load + 3D Printing
Data and Software Offerings
Custom Software Solutions

Integrated Electronic + Hydraulic Systems

Oracle Cloud-Based Solutions for Global Support + Analysis

Safety Systems
SailGPs award-winning racing manufacturing, engineering, software, and systems will lead to real-world performance and sustainable technological advancements. These advancements will correct the design challenges over water, land, and space. 

Team USA