Local Music and the Community
A Timeline of Music Production and Release
Erik Quam 
For artists that make music their career, they will find themselves often in a cycle of writing, producing, and releasing music that seems to never stop. While a lot of popular artists can go through this cycle in around 2 years, it can take anywhere from a couple weeks to a decade. In this article, I'll break down what a typical timeline looks like for aspiring musicians and curious fans alike.
Writing an album
This can take as long as an artist wants it to. Writing an album is a deeply personal thing for artists, especially those who want to tell a special story. 
Production
Production usually takes a long time, and it's the real meat of the process. Production has 5 main stages: Composition, arrangement, sound design, mixing, and mastering. In short, this is where an album comes together through finalizing the tracklist and their melodies, structures, and progressions, recording vocals and instrumentals, balancing their volume levels, and adding the final effects. 
A typical mixing setup for artists. The different boards are in charge of mastering different aspects of the song, whether it be reverb, echo, or balancing different tracks. 
Release & Advertisement
It's important to release work at some point. Even if it may not be perfect, showing growth and progression is important to an artist's development. A vital part of the release process is advertisement. Often times, this means touring with the album. This could mean anything from touring across football stadiums in the country like Billie Eilish, or just playing at local bars and selling CD's.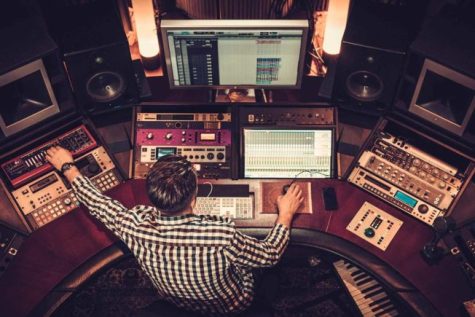 The Many Mediums of Music 
Erik Quam
With the ever so prominent feature of streaming music digitally, physical sales have been on the decline for quite some time. Even in light of this, a resurgence of vinyl and CD's is driving both mainstream and alternative artists to put their music back on store shelves. So, what form of sharing music is best for artists? What do different mediums accomplish? Let's explore.
Spotify
315 streams for $1

Very accessible

Easy to release music

Higher "virality" potential from being discovered on public playlists

Fans have limited free access
Apple Music
128 streams for $1

Very accessible

Easy to release music

Higher music quality than other streaming platforms
Bandcamp
Loyal users

Delivers platform for artists to sell albums and some merchandise

Much higher pay per purchase

Much smaller listener base than streaming platforms

Focus on artist comfort and compensation, but does not give consumers best experience
Vinyl
Passionate community

Very warm sound – better quality than streaming

Emphasizes listening experience over convenience

Expensive to produce

Medium for displaying album art
CD's
Cheaper to produce and sell than vinyl

Deals with rather obsolete technology

Usually better quality than streaming

Medium for displaying album art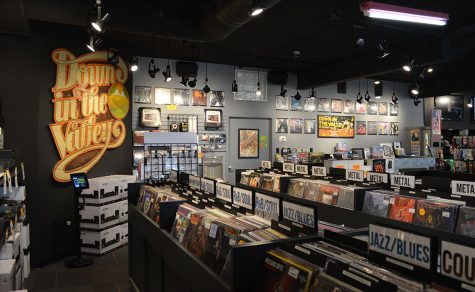 The Minneapolis Music Scene – Artist Profile
Erik Quam
The Minneapolis local music scene is filled with artists from all genres: folk, country, pop, you name it. While some are just getting started, some artists have been well established in the scene for a while I had the chance to interview Billy Johnson, a folk and country artist who has been playing music in the area for quite some time.
How long have you been writing music for?
Billy: Let me do some math here, how old I am. I guess for a good 30 to 33 years or so. Ever since high school, basically.
How long have you been performing for?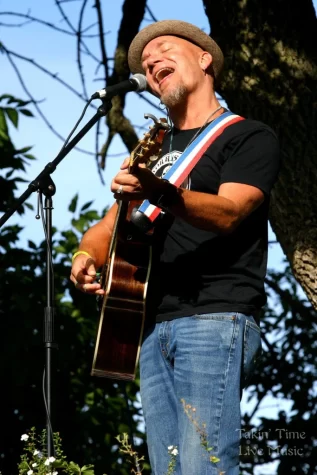 Billy: About the same. So my senior year, I got cut from the hockey team. Dove into music right then, played some in college and once that was over with, started kind of doing it more professionally and serious. 
Do you have a favorite place to perform or a place you perform most often?
Billy: Yeah, there's two places I play monthly. Every every other month or so I play. There's a place called the Astro cafe, which is in downtown Minneapolis kinda on the river. And then another place called the 318 in Excelsior. Those two places are like paid shows. So people have to get tickets and they're there obviously because they want to be listening. Being a solo, you know, acoustic singing guy, those are pretty great spots. I have a band that I play with occasionally, and there's some bigger places around town that are fun to play at too.
How do you think you've impacted the scene where you perform locally?
Billy: Music is – I mean, I play it, so I just think it's the greatest, most powerful, impactful art form. Imagine a world without that. So hopefully I've had people that have come listen to me who feel comforted by a song or moved in some sort of way or made them think about something. I mean, there's so many funerals and weddings and backyard parties I've played for people I would never have known, but just that they'd come up to see me play, and then we've chatted and they've come a second time. And then we kind of become friendly, and something joyful or sorrowful will happen in their life, and they'll want somebody to do music for them. So that's been a pretty cool thing too, to be just kind of invited into people's lives, who, you know, were strangers at one point.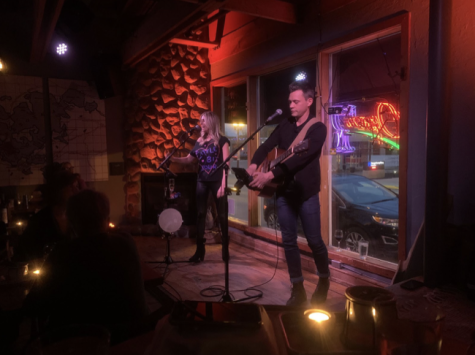 Infographic: Minneapolis Music Venues