2 Cracked Eggs
Breakfast is commonly known as the most important meal of the day, so we decided to share on our blog the reasons breakfast is an essential part of waking up and starting our day. We are rating food at local breakfast restaurants, and sharing our honest opinions of our overall experience there, and the quality of the food. We will also be sharing recommended meals for breakfast that provide nutrients. Additionally, we will be writing about foods that have been proven to have good effects on peoples' days.
May 17, 2021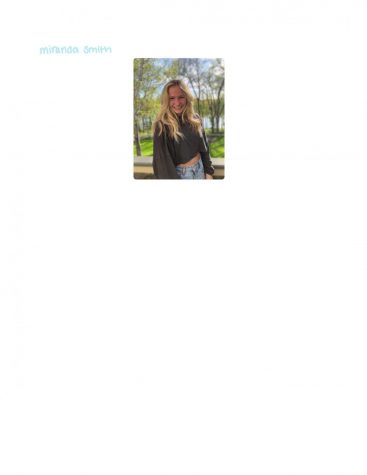 Hi, my name is Miranda Smith. I am a junior at Minnetonka High School. I am a full-
time student and I am also very passionate about dancing. I am on the competition
and performance teams at my school. I also participate in studio dance at Just For
Kix in Minnetonka during the off-season. I am currently working at Nautical Bowls. I
enjoy working and being active. Some of my favorite things to do is going on the lake,
eating out with friends or family, and traveling. In my free time (outside of school and
dance), I am either hanging-out with my friends, my family, or I am at work.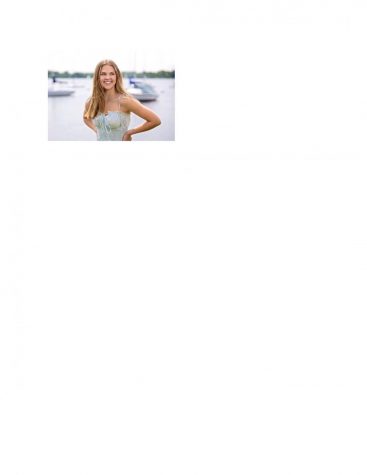 My name is Darby O'Connor, and I'm a junior in high school. Outside of school, I participate in
competition dance team, and performances at football games. I love hanging out with friends,
and especially I'm the summer, going on the lake. I also enjoy taking landscape photos in my free
time.
May 14, 2021-Darby
Top 10 breakfast foods 
 It's important to eat foods for breakfast that consist of many nutrients. We've compiled a list of the top 10 breakfast foods, proven to be energizing and sustainable for the start of the day.
1. Eggs
Eggs contain vitamins A, D, and B12, as well as choline and protein. One large egg contains 8 grams of protein, and 50% of the required daily choline intake. Overall, eggs provide a large variety of nutrients. Eggs are also very versatile with many ways to prepare them, which makes them a great breakfast food to pair with other foods easily.  
2. Greek Yogurt 
Greek yogurt is a great source of calcium, vitamin D, and protein. There are many toppings that can be added to yogurt as well such as berries and whole grain granola. This makes greek yogurt a great healthy option for something sweet! 
3. Oats
Oats are 100% whole grain so they're a great source of fiber, and minerals (iron, magnesium, and calcium). Oats are also proven to help lower cholesterol, and they are also a great probiotic due to the high fiber of them. Oatmeal is a great option to eat with peanut butter and berries. 
4. Berries 
Berries provide a lot of fiber, and they also have many antioxidants in them. They also provide a good amount of vitamin c. Berries are a great side to any breakfast meal, and can be put as a topping on waffles, pancakes, french toast, oatmeal, and yogurt. 
5. Bananas
Bananas contain folate, vitamin b6, potassium, and fiber. Folate and B6 in bananas produces serotonin, so eating bananas in the morning can relieve stress and anxiety in the morning. 
6. Nuts/Nut butter  
Any type of nuts or nut butter are great to have in the morning because they provide high amounts of protein. Peanut butter is a good source of unsaturated fat and protein. Eating a good amount of protein in the morning helps sustain energy and fullness until lunch, so it's perfect to help fill you up. 
7. Chia/Flax seeds 
Chia and flax seeds contain zinc, magnesium, iron, calcium, protein, and fiber. The minerals help build immunity and the fiber in them can lower cholesterol. Due to the high amounts of protein and fiber in flax/chia seeds, they are great at preventing an energy crash. Seeds can be put in oatmeal, water, smoothies, and acai bowls. 
8. Whole grain waffles 
Whole grain waffles are a great alternative to regular waffles because they can provide fiber and protein, and they aren't excessively high in sugar. A great option as a meal with whole grain waffles would be adding peanut butter on top with some strawberries. 
9. Avocados
Avocados provide healthy fats and they are very filling. A common breakfast meal is avocado toast, which provides a lot of vitamin b and minerals, and by adding an egg as well it can provide protein as well. 
10. Sweet potatoes 
Sweet potatoes can be a healthy substitute for bread or bagels. Sweet potatoes efficiently provide vitamin a. A medium sized sweet potato can provide 400% of vitamin a daily intake and 15% of fiber intake.
May 14, 2021 – Miranda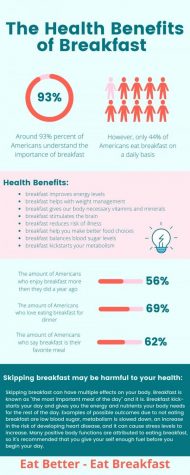 May 18, 2021 – Miranda and Darby
Local Breakfast Spots – Reviews
May 21, 2021 – Miranda
What Breakfast Means to Me
Breakfast has been around forever.  The use of the word "breakfast" didn't become a term in written form until the 15th century in England.  The origin of the word breakfast comes from the fact that you are eating a meal that is breaking the cycle of fasting from the previous evening.  Breakfast is my favorite meal – by far.  When I wake up in the morning, the first thing that comes to mind is what to feast on.  I am hungry, my mouth is dry and the only thing important to me at that moment is how to get my mouth happy.  The taste buds are dull, the tongue is dry and pasty white and has no sense of taste.  My dilemma each day is to determine what specific basic taste will best satisfy my tongue, mouth, and brain.  Will it be sweet, sour, salty, bitter, or umami?  Umami – what?  Umami is the taste of an appetite, it describes if something is savory, or meaty and may be described as a way to satisfy a specific craving you may have – like cheesy eggs with spinach.
Only about 44% of Americans eat breakfast daily.  Breakfast is a meal a lot of people "don't have time for."  Most people every morning are rushing out of the door for school or work and breakfast isn't something they are thinking about.  But that needs to change.  Breakfast is what kick starts your metabolism which provides the necessary energy needed to carry you for the rest of the day.  There are so many breakfast foods out there.  Some are very healthy and some very unhealthy.  When choosing which breakfast foods would help fuel my body with the right nutrients, I love to look on Pinterest or YouTube for healthy fun breakfast ideas. Some of my favorites currently include avocado toast, baked oats, smoothie bowls, eggs with spinach, and breakfast sausages.  Choosing healthy breakfast options like the ones I listed above is so important.  It's your first meal of the day, so putting something good for you in your body is just going to make you feel so much better and energized.  It also can help you make healthier food choices throughout the rest of your day.
For this project, Darby and I researched some of the more popular restaurants that featured breakfast in our area.  The three we picked had many different choices of breakfast foods.  We wanted to try something new at every restaurant in order to expand our experience.  The three restaurants we chose were, Original Pancake House (OPH), Benedict's, and Hen House Eatery.  All three restaurants were different in many ways.  The decor, vibe, food, and the portion of food differed greatly.  Hen House Eatery was my favorite out of the three.  Hen House was more unique compared to the others and had a very relaxing and inviting vibe to it.  The food was just the right amount, portion wise, and tasted  amazing.  Our server at Hen House also recommended I get the cinnamon roll instead of the carmel roll and I was really glad she recommended it because it was by far the best cinnamon roll I have ever had.  All three of these restaurants were great experiences and it was fun to rate them based on the food selections, atmosphere, and overall dining experience.